>> ARM AND IBM JOIN FORCES TO LAUNCH IOT STARTER KIT
I had a feeling that a lot of new things would be announced at Embedded World 2015.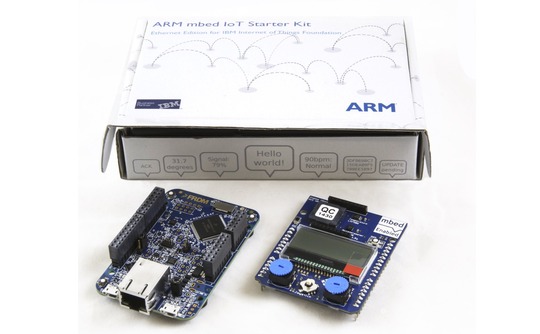 ARM isn't slowing down in its push to be a focal point within IoT with the announcement of a partnership with IBM to integrate support for IBM's Bluemix into mbed enabled devices. The IoT starter kit consists of an ARM mbed-enabled development board from Freescale using an ARM Cortex M4 based processor, together with a sensor IO application shield.
Freescale's Director of Marketing John Dixon called it "an Arduino for the industrial Internet".
The deal doesn't seem to be exclusive; as ARM's VP of Marketing Zach Shelby stated the company is likely to explore opportunities with other cloud providers and build an ecosystem of companies in as it pushes to strengthen the mbed OS ecosystem which already has over 100,000 developers - most of which are believed to be professionals as opposed to hobbyists.
I have tinkered a little with mbed myself - it requires a lot more work to be entry level grade for the hobbyists. It would be much more interesting to know how many active users the developer.mbed.org website is utilizing beyond running a few examples - a much better indicator.
A lot of this will become more interesting when ARM releases mbed v3.0 later this year when it finally realizes a form that will be better structured and useful for developers - currently writing for mbed is vendor specific and like finding a needle in a haystack.