>> BRINGING YOUR SOLAR INVERTER ONLINE (PART 2)
I am so happy when the sun is shining - for multiple reasons of course.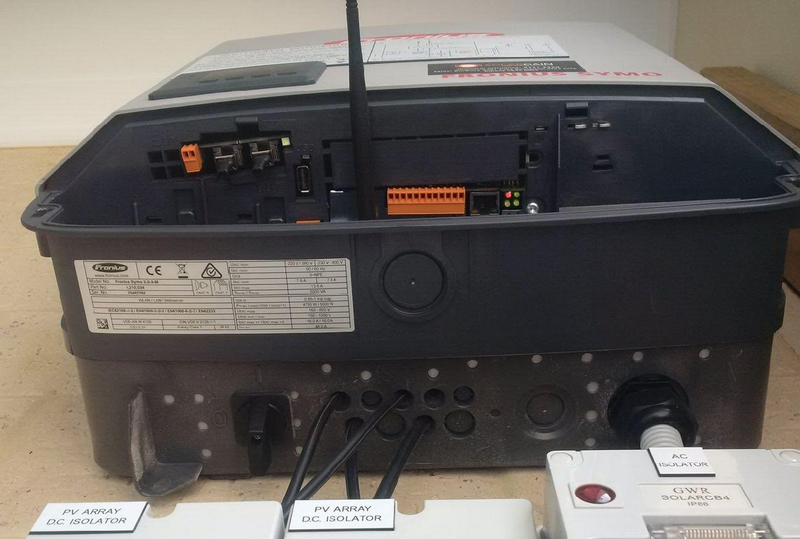 In yesterdays blog entry I covered the basics of understanding solar systems with a real life example outlining how savings are really calculated. Great for an education - but it is much more exciting to get the inverter online so it can be monitored in real time! It really isn't a difficult process; but note that every system will be different; however the principles remain the same.
Before we get started - how did the last 24 hours work out for us:

               meter                     meter (export)
-----------------------------------------------------------------
15/Oct/2015:   2099                       1301
16/Oct/2015:   2106 -  7 kW import        1320 - 19 kW export

    total number of kWh generated by solar panels: 24.5 kW
Using the same calculations - $1.63 was the charge for importing power, there is a credit of $1.35 for export and a total of $1.28 of free energy that I would normally be paying for. A total of -$0.99 (credit) compared to $2.07 yesterday - so it was a better day with the difference in the clouds.
Thankfully, some grateful person from the manufacturer of my unit has put a step-by-step guide on youtube - unfortunately; I didn't have this at the time (you know, RTFM? pfft..) but I have watched the video and I can confirm the steps are the same - so; maybe it is better to focus on the results.
The unit comes with a "data manager" interface - which actually offers a number of different ways to interface with the inverter; the most common is to simply configure it to use a wireless network and broadcast the information to the solar.web cloud service where you can access the data from your mobile phone or desktop computer.
Below is a screen grab from data collection for yesterday - typically; a nice smooth curve defines a cloudless day, but in this example it is obvious there were periods of cloud that forced the curve to dip slightly. It is also a myth to think the best time for collection is summer - as temperature also has an impact on the efficiency of the panels - as does the angle in which they are mounted.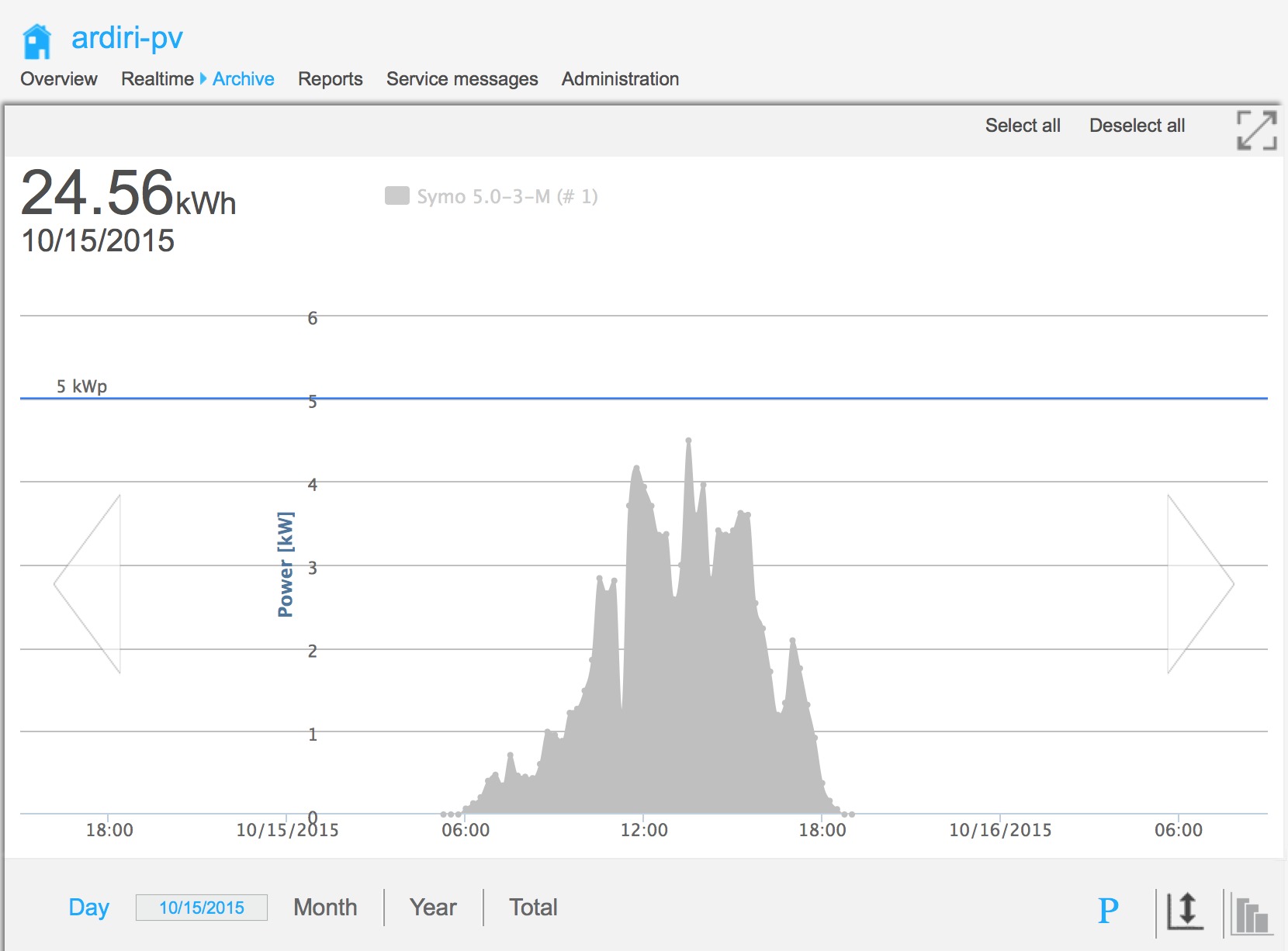 Depending on the direction the different panels are facing; the curve also takes on a different shape - if all panels are north (remember, southern hemisphere) it is a relatively even curve in both the morning and afternoon. In my setup; I have ten panels facing north, and ten facing east. So there is a sharp build up in the morning - but, it slowly declines as the sun sets.
A few days earlier; there was a less cloudy day - here is how it looked: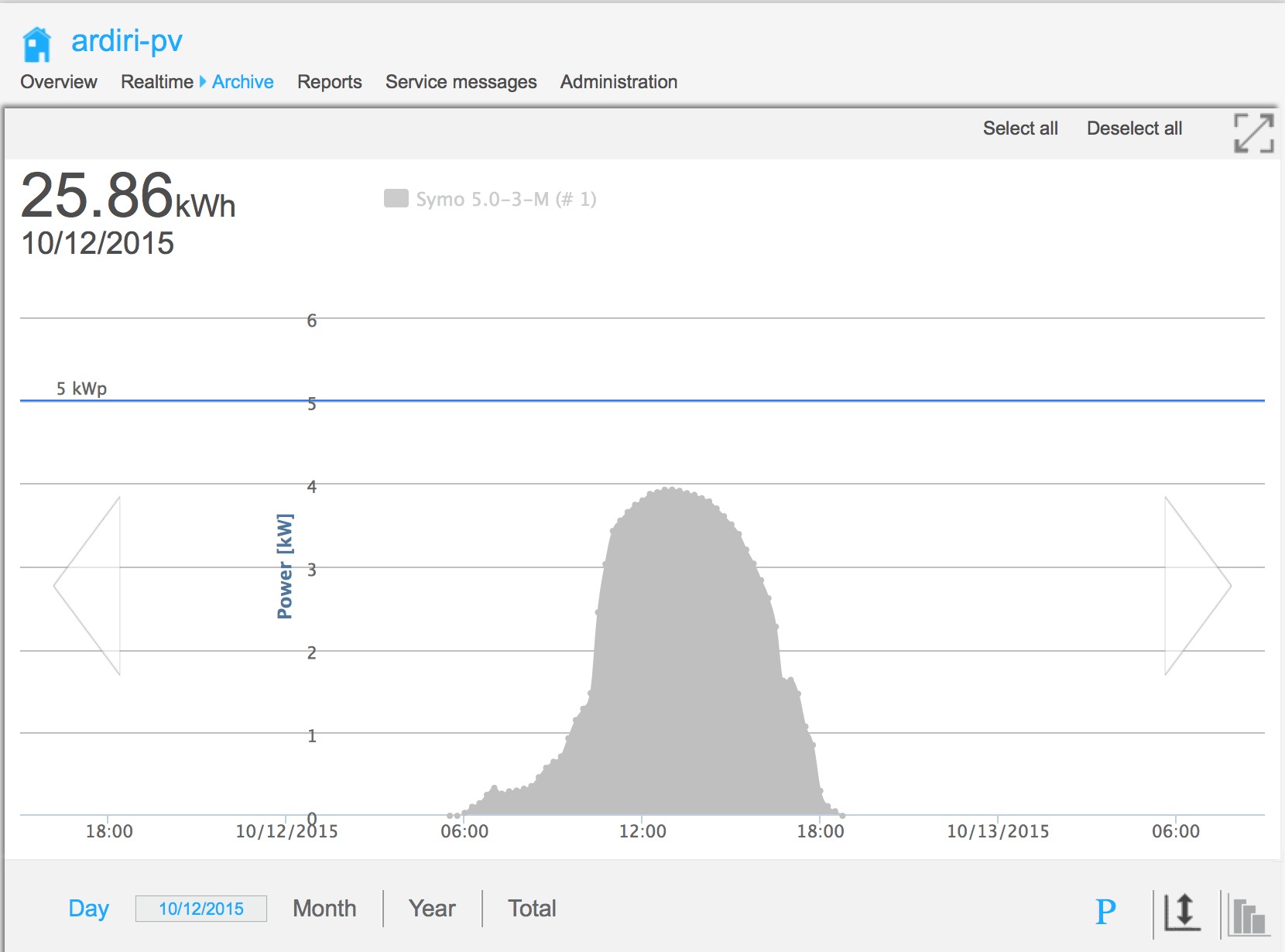 It is much more obvious now to see the panel alignment - but in theory the 5kW system I have installed should produce around 35-40 kW when the conditions are perfect. Of course; in the bad months (winter) - I was only seeing 5-10 kW of power generated per day.
The Fronius inverters give quite an impressive array of options for getting real time data from the system - I may actually investigate the Modbus TCP and their JSON web services; it may be possible to extract additional information that isn't exposed on the solar.web interface.
It could also be a nice way to integrate an Arduino board into the system :)