>> FIRST BATTERRY FREE CELLPHONE DEMONSTRATED
Hello? ... Hello? .. Do you hear me? .. Ok, we are good.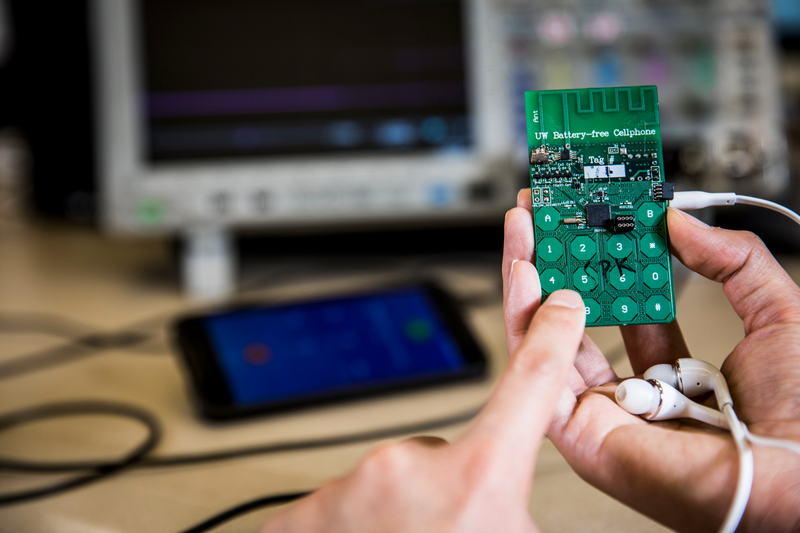 One of the critical barriers to the Internet of Things (IoT) is power - without it, things get kinda limited. Researchers at the University of Washington have demonstrated a Battery Free Cellphone that utilizes ambient backscatter technology as a source of power and communication medium.
Harvesting a few microwatts of power from ambient radio signals or light the team has demonstrated the ability to initiate a call from the device and receive and send audio communication. But what is the sorcery behind this and how exactly does it work?
The device itself isn't connected to the cellular network, instead it communicates to a proprietary base station that transmits RF signals which the device can harvest up to nine meters away; out side of that rang it depends on tiny photo diodes to harvest power from light. The device can communicate with the base station over the same RF signals up to fifteen meters away. The base station bridges the phone to VOIP technology, specifically Skype to actually make the phone call.
The user presses capacitive touch buttons to dial the number, using ambient backscatter sends digital signals to the base station. Upon making the call the device uses zero power amplitude modulation and plays audio on the device. The user must press a button (like a walkie talkie) to activate the microphone where it is transmitted using zero power analog backscatter.
The ability to harvest power like this has drastic implications on the future of IoT - it will be interesting to see how the research performed here can scale in the future to providing a foundation to power future devices. It still makes sense to hold onto the thought of low powered micro-controllers and finding a solution to truly secure them.