>> HOW TO USE AN ARDUINO ETHERNET SHIELD WITH A nRF51-DK
I know you guys love seeing me get my hands dirty with hardware - so here goes.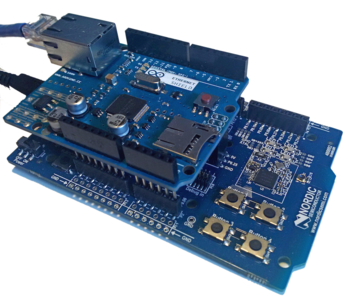 I recently did an in depth hands-on walk through covering getting started with mbed OS and a few compatible devices giving my first impressions. One of the devices I tinkered with during that post was the Nordic Semiconductor nRF51-DK - it was only natural that since it was compatible with the Arduino UNO rev3 hardware standard, it was time to connect it with an Arduino Ethernet Shield.

As part of my role within Evothings I have decided to start posting hands on tutorial blog posts like this to the Evothings website. If you are interested in seeing the step by step process of getting the nRF51-DK working with an Arduino Ethernet Shield - simply head on over to the blog post: