>> NANO REACTOR FOR IoT - 5V CHARGE FOR 666 YEARS
We have covered power for IoT in a few entries; but this one is great!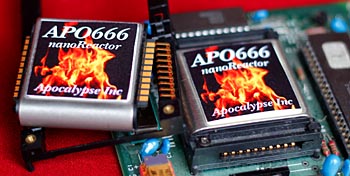 Elektronik i Norden (Swedish) reported on a US based company called Apocalypse Inc that started selling a power component, a nanoReactor, that utilizes the radioactive element Thorium to supply a charge of 5V for nearly 700 years; appropriately naming the product APO666.
Of course; safety is the number one concern!
The use of radioactive material in this type of construction may seem risky, but Bill Seebub ensures that problems are minimal. - There is a remote possibility that the components to leak radiation as long as you follow the instructions. It is primarily about not allowing the component to be unloaded for too long and to avoid excessive mechanical or thermal stresses. For journeys should not carry more than 50 components in the same box or container, to avoid chain reactions.

source: translation of small excerpt from article
April Fools anyone?
They were extra cunning to leave a clue in the post; one just needs to look up the alternative names for Satan - at number seven on the list (never knew there were so many variants), you will see "Beelzebub", which is an uncanny resemblance to "Bill Seebub". Not to forget 666 just happens to be the number of the beast (devil).
I had to educate my team earlier today these jokes still happen - wish it was real.